The Magic Lantern: Part 2 - Live Event

The Magic Lantern: Part 2 is the second installment of an ongoing series of interactive animation projects and kinetic art, which explores the art of animation through various, animation-viewing contraptions of the old and the new. This installment of the Magic Lantern focused on animated sculptures created from modern tools such as 3D printing.  A live presentation was streamed online on October 26, 2020, hosted by the Urbana Free Library. The presentation was divided into two parts - showcasing of animated shorts and kinetic art, then a live-demo of 3d-printed zoetrope.
This is a physical zoetrope sculpture spinning on a turntable. The animation is not visible and appear as a blur to the naked eye. The video clip was recorded at 24 FPS and turntable speed at 45 RPM. It is the synchronicity of the number of sections, the recorded frame rate, and the speed of the turntable that creates the illusion of life.

3d zoetrope & animation by EKAH
Music:
"Neurograma" by Nicolás Gravel (a.k.a. bio.nico)

The 3d-printed zoetrope consists of approximately 530 pieces printed individually at a total of more than 150 machine hours. 
Digital modeling and pre-visualizing of the animation was created in
Autodesk's 3ds Max
.
Some process images below.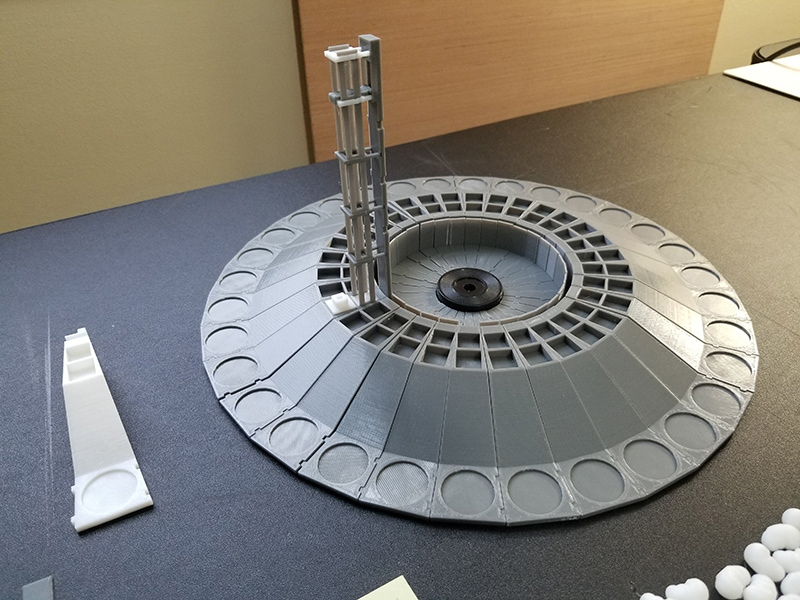 This project was in part funded by the Urbana Arts & Culture Program and the City of Urbana.